Expert For Correcting Pet Damage On Carpets
Pets may significantly improve your life, however, they can sometimes seriously damage your carpets. When pets scratch down carpeting or kittens discovers a favorite place to scratch, carpet damage may often go well beyond spots. You might not be able to repair and fix the worst stains if your pets have harmed your carpets. The stains and damage on carpets may make them appear drab and outdated.
Our pet damage carpet repair Sydney specialists can fix and re-stretch your carpet in order to repair problems, so there's no need to replace your torn carpets. A variety of carpet installation and repair services are available at Invisible Carpet Repair Sydney. Call right away to take advantage of the ideal carpet-fixing approach and save money on carpet installation and repair. You can reach us by dialing 03 9007 2740 for more details.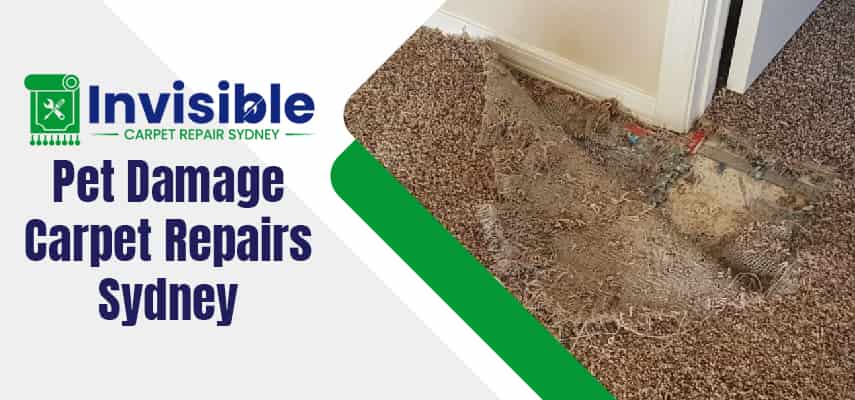 What Is The Protocol For Repairing Carpet Damage By Pets
The process of our pet damage repair is as follows:
We initiate by proper examination of the carpet and looking for the damage.
To make our service easy, we cut down the loose threads of the carpet.
Also, we replace the missing threads. You might be able to solve the problem by putting fibres if you have a few minor spots where pets have ripped through the carpet.
There are situations when a pet may pull up frayed carpeting along seams. Employ hot-melt carpet tape to remedy this by positioning it along the seam with one half underneath the carpet on one side and the remaining under the carpet on the other.
Lastly, we again inspect your carpet to make sure there is no damage left.
When There Is A Need To Call An Expert For The Service
Even though we like our dogs, they are not the kind to be concerned with how professional our homes appear. Your brand-new, spotless cream carpet quickly turns your cats' preferred source for cutting their claws. If your carpet condition has worsened, you must contact our experts. All our professionals have in-depth knowledge of handling all pet damage.
Our dependable technician at Invisible Carpet Repair Sydney delivers prompt carpet repair services. Our skilled experts have the instruments necessary to quickly and effectively mend your carpets. For as long as the carpet lasts, we offer carpet repairs providing normal wear and tear is taken into account. Additionally, we will fix it at no incremental expense.
What Are The Reasons To Book Our Services?
Invisible Carpet Repair Sydney specialists can assist you in getting the best carpet repairs for your house. All carpet repairs may be carried out by our carpet fixer professionals since they are licensed and highly qualified. Here are the perks of choosing us:
Experts: Our team members are experts in dealing with all carpet pet damage issues. We deal with all types of carpet fabrics and know all types of carpet repairing tools.
On-time: We always reach you on time. As we aim to provide our services to customers in need. Thus we never get late for work.
Latest tools: Since pet damage is very messy and quite tough to handle, we use modern tools. Our modern tools help to provide fine quality services.
Affordable: The assistance we provide is budget-friendly. As we never go out of pocket. We want all our customers to feel satisfied.
Same-day assistance: To help you in an urgent situation. You can undoubtedly ring us. We are available for same-day carpet pet damage repair service all around Sydney.
FAQs
Is carpet pet damage restoration necessary? 
Yes. Call us right away if your carpet is torn for any cause so that it may be restored. Your carpet adds lustre to the inside and outside of your home. It is always preferable to get even small problems corrected right away.
How is a carpet fixed? 
Basically, it varies depending on the kind of harm. We utilise a unique methodology, patchwork, or repair it with carpet thread when there are carpet holes. There are also contemporary treatments for different pet damages.
Is your team available to serve you in North Sydney?
Yes, our team easily serves all the locations near Sydney. Since we are locals of Sydney. Thus we know all the routes of Sydney.