Sydney's Leading Carpet Dyeing And Repair Service Company
Are you looking for a company to give you stress-free days and a wonderful outcome for your carpet dyeing? You can rely on Invisible Carpet Repair Sydney. We are the top carpet dyeing company in Sydney that takes great care and pride in our work. Our skilled carpet dyeing Sydney team of specialists manages all varieties of residential carpets using the best mending techniques.
We think there is no such thing as a little or large carpet dyeing or maintenance project. Therefore, we also deal with burned carpet stains. Therefore, do not be afraid to contact us and make a reservation by calling us at 03 9007 2740. We are capable of providing you with quick, effective and budget-friendly outcomes. Our team is available round the clock to serve you in every situation.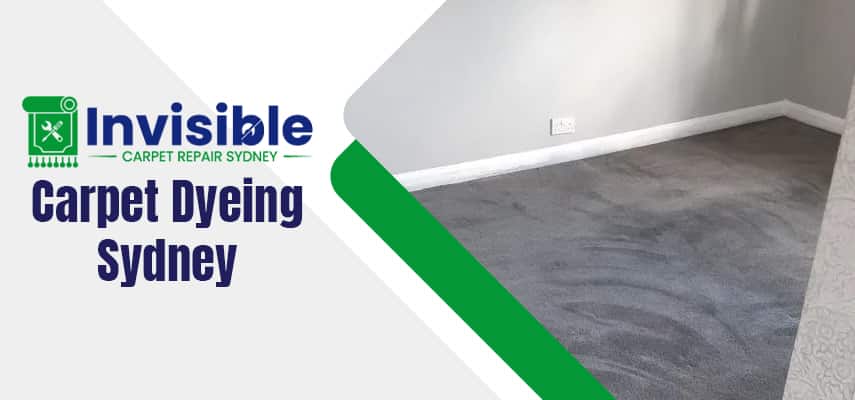 Process Of Our Carpet Dyeing In Sydney
Our experts use a customised carpet dyeing procedure for every type of carpet.
Our experts initiate by inspecting the entire carpet and its fabric. Since not all types of fabric take up the colour. Hence make a plan for proper carpet dyeing.
Professionals afterwards clear up the space for proper and hassle-free service. Also, we set up newspapers on the wall so that the colours do not set up on the walls.
Before initiating dyeing our experts deep cleans the carpet so that colours are embedded in the fabrics properly. Experts mostly use steam cleaning processes for cleaning the carpet.
Following the cleaning, our team starts dyeing your carpet by using their current technology dyeing machine which works effectively and quickly.
After dyeing the entire carpet, it is left for drying.
When To Call An Expert For Carpet Dyeing
Even when you take good care of your carpet for a while, problems might still develop from faulty carpet setup and long-term wear and tear. Furthermore, due to numerous mishaps, carpets are also destined to display blemishes and marks. You should seek carpet dyeing Sydney services as soon as you notice these problems with your carpet. You could occasionally discover discolouration on the carpet as a result of spillage. Thus act quickly and choose our team for the best and safe carpet dyeing services in Sydney. We use safe dyeing colours for transforming your carpet into new. Also, we do not charge much for our service. Therefore our team is mostly chosen by the residents of Sydney. Hence if you are facing the same issue, ring us as soon as possible.
Why Pick Our Sydney Carpet Repair Team?
We can provide a checklist of the factors if you are still unsure after viewing our exhibit of carpet dyeing services. There are several skilled members with us who can handle all of your carpet dyeing needs. In addition, the following explanations are given below:
Affordable: Our carpet dyeing service for all types of carpets is affordable. Since we do not ask unnecessarily for our service. We are most liked by the people.
Same-day service: Since we know the urgency of carpet repairs. Therefore we make ourselves ready 24 by 7 for your help.
Professionalism: All of our carpet dyeing Sydney experts have extensive knowledge in dealing with all types of carpet dyeing, hence there is no risk in appointing us for the service.
Highly skilled: To provide you with prime quality outcomes, we use modern tools and techniques. Hence you will always get an astonishing result by appointing us.
Availability: You can book us any time for the service. As we are there for you all day and night. Also on weekends do not hesitate to ring us.
FAQs
Is your carpet dyeing result long-lasting?
Yes, we use organic carpet dyeing solutions to colour your carpet. Therefore our carpet dyeing results are persistent, long-lasting and safe. So you can ring us as soon as possible.
Do you provide carpet dyeing services on holidays?
Of course yes, we are available to help you on weekends. Also, we do not ask for extra money for our assistance on weekends or holidays.
Can you provide domestic carpet dyeing services on the outskirts of Sydney?
Yes, we offer domestic carpet dyeing services at all the places near Sydney at no additional cost. Thus you can ping us any time for the service.