Carpet Restretching In Sydney By Professional Hands
Get in touch with Invisible Carpet Repair Sydney, we can offer you solutions for all types of carpet restretching services. The loose and baggy carpet in your home will look beautiful after our services.
Our process will involve employing a team of technicians who are fully trained and professional to secure your carpet once again. They will preferably use a variety of equipment to give your carpets their real shape.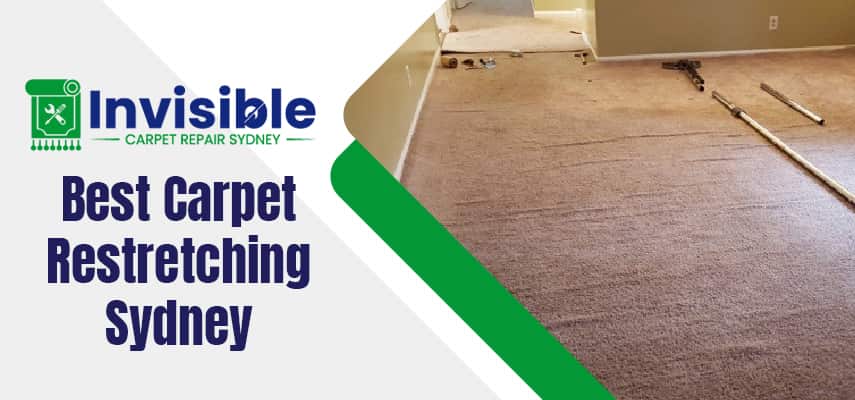 Important Things To Know About Carpet Restretching
If you notice any wrinkles or bubbles on your carpet, you must know that your carpet needs stretching. Sometimes the carpet even does not lay flat on your floor, then it is also a sign of stretching. One more important thing to notice is when the carpet starts pulling up from the edges.
An old carpet also starts forming wrinkles or bubbles in it. Trust the professional services in any such case and even for the reinstallation of the carpet again. Otherwise, if your carpeting is getting into some other shape, then you must stretch it immediately.
You can trim the frayed edges of the carpets and the carpet pads. Install a new doorway and attach your carpet to it.
Solve Your Carpet Bubble Issues With Us
Fill out and submit the contact form
Get the quote estimate
Book your appointment
Arrange the furniture removal
No bubbles and wrinkles
Improvise the appearance of your carpet
Get the life of your carpet back
Reasons Behind The Occurrence Of Carpet Bubbles?
Before understanding the main cause of carpet bubbling we must explore what exactly bubbling is. It usually happens when an area of wall-to-wall carpeting stairs uplifts over the subfloor. It produces little bubbles in the carpets. But honestly, carpet bubbling can result in disaster on your floors.
We will use tools such as a power stretcher and a knee kicker, which will help us to stretch the carpet more. Our process will have no rigorous impact on your flooring. So, take the help of our technicians for the solutions to your carpet stretching issues. Get in touch with us and get free quotes.
We Are Always Available For The Carpet Restretching And Repairing Needs Of Our Clients
Restretching or repairing a carpet is a big pain regardless of anything, but we treat them as the best. We know that the problem can get bigger if not fixed within some time. Hence, we offer the best Carpet Restretching And Repairing services in Sydney. We are always accessible all days a week 24/7. Our team also offers same-day service at affordable rates. You can contact us for any emergency requirements.
Why Are We The Best To Book For Carpet Stretching Services In Sydney?
Genuine experiences and expertise
Knowledgeable and trained staff
Available 24/7
High quality and brilliance
Value of hard-earned money
No hidden pricing structure