Team Of Professionals To Repair Your Carpet Joints and Splits
Accidents and injuries might result from loose carpet seams. They may result in falls and slips. Your floors will be safe to walk on after your carpet seam repairs and appear new. Carpet cracks and joints might cause significant issues. The best way to deal with them, then, is to patch them with the help of our carpet joints and split Sydney experts.
With expertise in this business, Invisible Carpet Repair Sydney helps to repair carpet joints and splits so well that you scarcely notice any issue ever. To achieve the most undetectable carpet repairs, expertise and the appropriate equipment are required. Your loose carpet joints may be fixed by cutting and rejoining the edges. Our team can repair carpet joints and splits using a range of specialized tools and methods. You can ring us at 03 9007 2740 to book our services.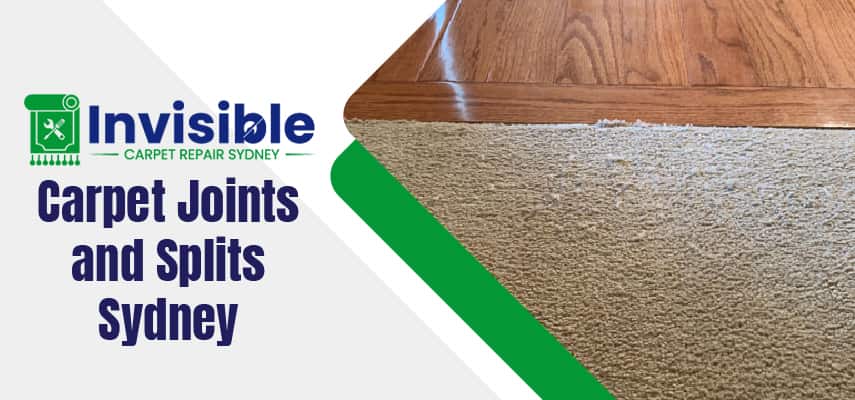 Process Of Our Carpet Joints and Splits Repairs In Sydney
You can have a look at our unique carpet joint and spilt repair process:
Our professional team will thoroughly inspect your carpet and will look for joint repair sites.
After looking at the condition of your carpet, we will customise the repair action for your carpet.
We begin by stretching the loose carpet fibre and fixing it in the proper position.
We press your carpet a few times so that it gets stuck to the floor properly.
When There Is A Need To Ring A Professional For Carpet Joints And Splits Repair
On occasion, the joints and broken ends of the carpet might get loose and get worse with time. It needs urgency to hire an expert if your carpet's conditions worsen. Our carpet joint and split repair professionals are knowledgeable about the best solutions to this issue.
Every home has carpets, which are expensive investments that require a lot of maintenance. You will want a carpet repair service in Sydney since problems with carpets are unavoidable over time. Even though some people try DIY methods, it is recommended to leave this task to the professionals.
Carpet damage can be challenging to deal with, and if you try to mend it yourself you risk doing additional harm and incurring high repair costs. Therefore contact our super-specialized team to repair the joints and splits of your carpet.
What Makes Our Carpet Repair Team Brilliant?
Our amiable specialists in Sydney make you feel secure with our commendable service. You can trust us in every situation. Here are the perks of choosing our carpet repair team:
Trusted team: Our qualified professionals have extensive knowledge and experience in dealing with joint repairs. Therefore hiring our experts is a wise choice.
Emergency assistance: Even in case of emergency we will assist you at no additional cost. Therefore you can ring us at any time for our help.
Reliable outcomes: Because of modern techniques, we provide our customers with astonishing and finest carpet joint repair results.
24/7 service: To be available all the time our customers need us, we are here to help you round the clock. So do not hesitate to ring us anytime.
Cost-effective: Our carpet repair service cost is very reasonable. Hence it does not affect your budget. Therefore you can appoint us easily.
FAQs
Can you fix joints and splits effectively?
Yes, with the help of advanced methods we effectively repair your carpet joints and splits.
Do you provide your carpet repair service on public holidays?
Absolutely yes, we provide our extensive carpet joint repair service on holidays. Therefore you can undoubtedly ring us for the service.
In Sydney do you provide emergency carpet joint repair service?
Yes, our team is always ready to help our customers in need. Therefore you can call us round the clock.