Carpet Patching Service In Sydney, Get Your Carpet Fixed Today!
A Carpet Patching Service is a good way to extend the life of your carpet which has holes, burns and tears. We offer a wide range of services which include but are not limited to repairing rips and pet damage, and replacing worn-out or burn carpet fibres. We will work with you to determine what type of patching service is best for you and then we will take care of the rest.
At Invisible Carpet Repair Sydney, we have been in business for over 25 years and our staff is always friendly and professional. Our experts are here to provide the best carpet patching services all over Sydney. Moreover, we use professional tools and have years of experience in repairing carpets. Our services provide your carpets with long-lasting effects. You can reach out to us immediately! Call us for services by calling our toll-free numbers whenever you require Carpet Patching Services.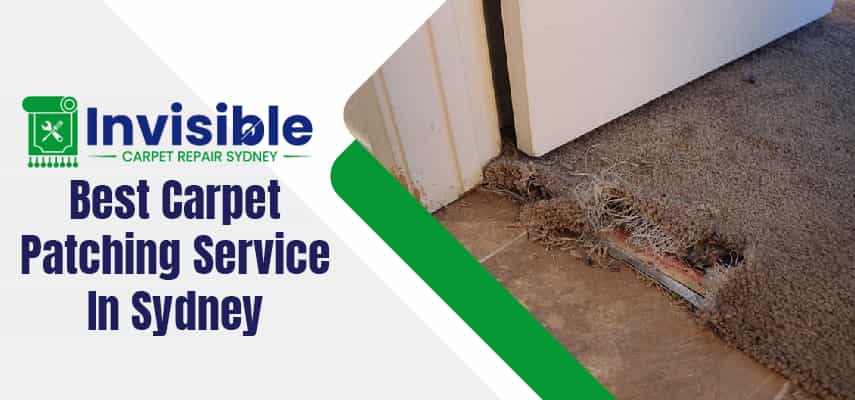 Carpet Burns
Carpet burns can be seen because of coal burns, iron burns or cigarettes. They create an unsightly appearance and can also be a safety hazard for people who may trip on them. The experts at Invisible Carpet Repair Sydney offer professional carpet patching services to repair carpet burns. They specialize in repairing carpet burns on all types of carpets, including wool carpets, synthetic carpets, and natural fibres.
The first step to repairing a carpet burn is identifying the type of your carpet. There are four types of carpets: nylon, wool, olefin, and polyester. According to the carpet type, we treat damaged or burnt carpet. We use a small carpet patching piece and replace it with the damaged part. In the whole process of carpet patching, we use quality materials and apply different required techniques for fixing the burn damages.
Shading/Crushing/Matting
As a result of flattening caused by heavy foot traffic, some carpets may seem darkened and may need to be repaired. Cleaning the area with a brush and a vacuum will fix the carpet in this situation. But with excess shading or crushing issues, you can get help from professionals. Our experts will help you out in this situation by offering the best carpet repairs and vacuuming process. We also help when the carpet starts to look worn as the pile flattens because of high carpet matting issues. Make a quick call if you require carpet damage restoration and carpet patching service in such situations.
Shedding/Snagging
When fibres appear on the carpet after use, this is known as shearing. This is a typical occurrence rather than a production flaw. Vacuuming the area is required in this case to repair the carpet. Tufts that have peeled away from the carpet's surface are known as snags. They are more common in carpets with loop piles than cut piles. Never try to fool them. Just use scissors to cut them precisely. Or if you are unable to deal with this situation, call our carpet repair specialists.
Get Services in all Sydney suburbs
We at Invisible Carpet Repair Sydney, offer the best services for Carpet Damage Repair. Our customers can get free quotes at any time or book our service as per your requirement in all eastern, western, southern and northern suburbs.
FAQs
Q. How can I tell if my carpet has been damaged?
Stains are impervious, the unpleasant smells won't go away, visible damage exists, and your allergy problems have worsened because of bugs that may live in damaged carpets or the old carpet you have. These all are signs of a damaged carpet. But it does not mean all old carpets are damaged.
Q. How can I shield my carpet from harm?
Simple steps to avoid carpet damage are keeping food properly placed in the kitchen, training animals or preventing them from walking on the carpet, taking off your shoes inside, using doormats outside each door and in high-traffic areas, use rugs.
Q. Do you offer services on weekends?
Yes, our professionals are 24/7 available to provide carpet repair services at the best prices.