Best Company For Fixing Carpet Burns In Sydney
Fixing the burnt carpet is very essential to maintain the beauty of your home and workplace. Professional carpet repair is an effective way to fix burnt carpets. Whether you have to manage the burn damage to your carpet due to cigarette, hot iron, coal or any other burns, we are ready to help in all situations.
Here at Invisible Carpet Repair Sydney, we take care of all burns that may damage your carpets severely. Surprisingly, you will require some patience to fix all the damage. Trust us and relax, we will fix your carpets.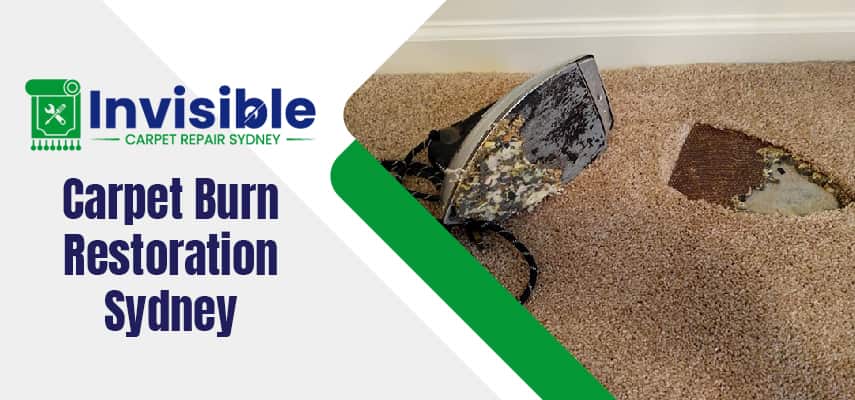 What We Do For Carpet Burn Restoration
We have prime tips and steps that will get burned part out of your carpet and will reduce the looks of the marks on your carpet, through these steps we have many homeowners in Sydney. We can help you with both a majorly burnt carpet and a minorly burnt carpet.
Below are some steps and materials we use in Carpet Burn Restoration.
Things we need: Scissors, Vacuum Cleaner, Comb, Sandpaper
Even the area with sandpaper: We utilize scissors and sandpaper to smooth the area with the burn mark.
Vacuum the scrap: We vacuum all the scrap and dust from the area.
Patch the burnt part: We patch the burnt part and stitch it properly.
Blend fibres: Use a comb in the area to blend the fibres. This last step is to comb the area to blend the fibres from the remaining carpet.
When To Call Us For Fixing Carpet Burns?
Repairing a carpet burn on your own is good for the sake of it, but you must try to repair it with the help of professionals when the problem is major. If you notice any scorch and burn marks on your carpets then call us immediately. Our job will be granted and your carpets will come back looking brand new.
Why Are We The Best For Fixing Carpet Burns In Sydney?
Invisible Carpet Repair Sydney understands the changing and demanding need of our clients for fixing carpet burn marks. Here are some more reasons:
Professional and reliability: Our advice will be completely professional and trustworthy for the permanent solution to carpet burn marks.
Fix pricing: Our cost will not give you any surprise as we are very transparent about our rates.
Immediate response: We act quickly to meet the deadlines given by our customers.
Reputation and customer satisfaction: We have been in the business of carpet repairing for many years for residential and commercial needs.
Fix all problems: We will repair from carpet stretch to carpet burn marks. We will maintain this tradition into the future too.
FAQs
Q. What is the cost of repairing a burnt carpet?
This depends on the type and size of the damage and distance involved, most carpet burn repairs cost a fraction only in comparison to the replacement of the carpet. It starts from $70. You can contact the professionals for any query.
Q. What are the ways to repair an iron burn on a carpet?
Use a sharp blade to cut the burned area. You can cut it into a square or rectangular shape that is easy to recreate. Cut some sections of carpet from an inconspicuous area. Lay out the glue on the burnt carpet. Allow the glue to set in till it is a bit tacky and then gently press it into place. Use a small, sharp pair of scissors to trim the fibres from the long ends and brush in a mild way.
Q. How can I maintain the cleanliness and hygiene of the rugs and the carpets at my home?
The method of regular cleaning and vacuuming is good, but carpets require professional maintenance to be in good form, once in a while. This involves the removal of deep-seated dirt, stains and fluids that may have been thrown on your floor's coverings.